Foundation for Teaching Economics
HOW TO OBTAIN UCCS CREDIT FOR YOUR FTE COURSE
Make sure you have registered with FTE for your desired course(s).
Find your course in the listings below and click on the course title.
In the information window that opens to the right, click on the button to download the course registration packet. This document will provide you with step-by-step instructions for applying to the Extended Studies Program and accessing your myUCCS student portal account, where you will register and pay for your course credit.
At the conclusion of your course or whenever you wish, request your official UCCS transcript. Go to the Transcript Request Page for instructions.
Frequently Asked Questions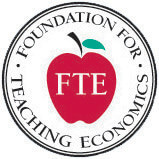 Courses Available for Registration
FALL 2023/SPRING 2024
Economic Forces in American History-Virtual

Economic Forces in American History (EFIAH)

Course dates: November 4, 2023
1 graduate credit hour
Tuition: $120
Class# 13337
Deadline to register for credit: November 17, 2023

Economic Issues For Teachers-Alexandria, VA

Economic Issues For Teachers (EIFT)

Course dates: November 10-12, 2023
2 graduate credit hours
Tuition: $240
Class# 42148
Deadline to register for credit: November 24, 2023

Fundamentals of Environmental Economics-Grand Junction, CO

Fundamentals of Environmental Economics (FEE)

Course dates: November 11, 2023
1 graduate credit hour
Tuition: $120
Class# 13338
Deadline to register for credit: November 24, 2023

Fundamentals of Environmental Economics-Old Town, ME

Fundamentals of Environmental Economics (FEE)

Course dates: November 18, 2023
1 graduate credit hour
Tuition: $120
Class# 13339
Deadline to register for credit: December 1, 2023

Making Sense of the Federal Budget, Debt and Deficits-Virtual

Making Sense of the Federal Budget, Debt and Deficits (FBDD)

Course dates: December 9, 2023
1 graduate credit hour
Tuition: $120
Class# 42147
Deadline to register for credit: December 16, 2023

Economics Online for Teachers: Fundamental Principles and Markets-Online

Economics Online for Teachers: Fundamental Principles and Markets (EOFT: Fundamentals)

Course dates: January 9-March 5, 2024
2 graduate credit hours
Tuition: $240
Class# 40756
Deadline to register for credit: January 23, 2024

Economics of Disasters-Online

Economics of Disasters (EoDO)

Course dates: January 9-April 2, 2024
3 graduate credit hours
Tuition: $360
Class# 17735
Deadline to register for credit: January 30, 2024

Environment and the Economy-Tempe, AZ

Environment and the Economy (E&E)

Course dates: January 12-15, 2024
Deadline to register for credit: January 26, 2024

2-CREDIT-HOUR OPTION:

Tuition: $240
Class# 40769

3-CREDIT-HOUR OPTION:

Tuition: $360
Class# 17736

Economic Issues For Teachers-New Orleans, LA

Economic Issues For Teachers (EIFT)

Course dates: January 13-15, 2024
2 graduate credit hours
Tuition: $240
Class# 40768
Deadline to register for credit: January 26, 2024

Economic Demise of the Soviet Union-Virtual

Economic Demise of the Soviet Union (EDSU)

Course date: January 27, 2024
1 graduate credit hour
Tuition: $120
Class# 17737
Deadline to register for credit: February 9, 2024

Right Start in Teaching Economics-Tampa, FL

Right Start in Teaching Economics (RSTE)

Course dates: February 17-20, 2024
3 graduate credit hours
Tuition: $360
Class# 40767
Deadline to register for credit: March 1, 2024

Uncharted Waters: Economics, Water Use & the Environment-Virtual

Uncharted Waters: Economics, Water Use & the Environment

Course date: February 24, 2024
1 graduate credit hour
Tuition: $120
Class# 17738
Deadline to register for credit: March 8, 2024